Ways to support Victoria Literacy Connection
Otherwise, we welcome cheques made out to:
Victoria Literacy Connection
306–620 View Street
Victoria, BC  V8W 1J6
A tax receipt will be issued upon reception of your cheque.
Every bit helps and we appreciate your support!
---
Sponsor a Book Bin for our Reading Partners Program
Victoria Literacy Connection is starting a new in-school reading support program, called Reading Partners, where we need new books to accommodate reluctant readers. We will be starting in 5 schools and each bin is valued at $700.00. The books belong to the program and will remain with the school as long as the program is running there.
The content of the bins was pre-approved by an experienced librarian in Victoria, and the purchasing will be done through the local book store, Bolens.
If you or your company wish to sponsor a bin, kindly go to the VLC Canada Helps page and donate to that program making a comment in the comment box, or simply send us a cheque to our office address listed on the right hand side of this page. If desired, we will gladly promote your donation on the book bins themselves, on our website and on our Facebook page, acknowledging you as a supporter for literacy in our community.
Smaller donations towards this program are also most welcome and will be equally recognized.
For more information, please do not hesitate to contact our Executive Director, Christine Bossi, by email: ed@victorialiteracyconnection.ca or call our office: 250-385-0014.
Help us reach our goal!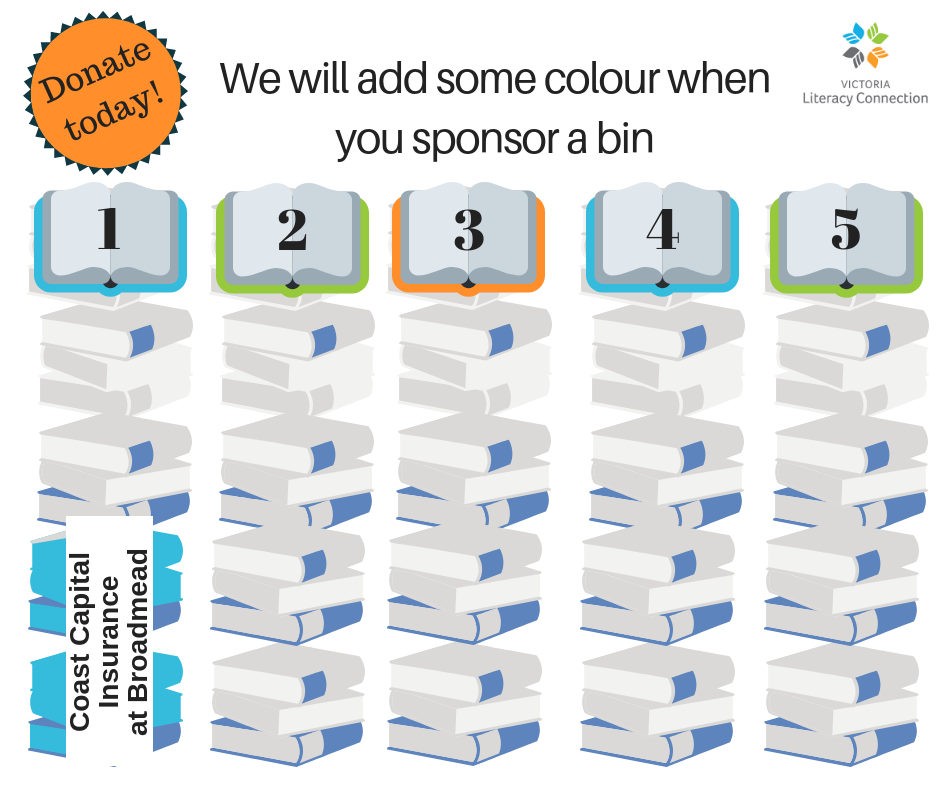 ---
Book Club Champions for Literacy:  Toonies for Tutoring
In 2016 VLC developed a new fundraising program targeted to book clubs as we realized there was a natural fit between book lovers and people facing literacy challenges.  At each book club meeting members contribute a toonie.  This money supports training for volunteer tutors – it costs approximately $120 a year to train a tutor.
As a thank you for those book clubs supporting VLC we offer a literary event featuring local authors.  The first two event were held at Bolen Books and both generated much excitement and appreciation.
We currently have 12 active bookclubs participating.  Individuals who do not belong to a book club but till want to support our learners are encouraged to join the Loonies for Literacy Program.