The Victoria Literacy Connection (VLC) received the generous donation of $23,600 from 100+ Women Who Care Victoria. According to their website, these are women who care about local community causes and who are committed to community service. The group meets for one hour and jointly selects a local charity or not-for-profit organization. Every woman writes a $100 cheque to the selected organization and watches how the group's commitment turns into a $10,000+ donation – http://www.100womenvictoria.com.
Barbara Newton, Victoria Literacy Connection Board Member, has also been a member of 100 Women for three years. Each year, Barbara put our organisation's name in the hat to be drawn, and this year she finally succeeded. Mrs. Newton was the third of three speakers and her story of literacy needs in the community touched the 100 Women's hearts.
Representatives from 100 Women, including Denise Grant, Nora Steves, Marnie Hare and Andrea Cracknell, came to Victoria Literacy Connections's office on View Street to hand over the cheque to VLC Co-Chair Charlie Etchell, Board Member, Barbara Newton and Executive Director Christine Bossi. The funds will be put to good use to support children, youth and adults with literacy issues in Greater Victoria.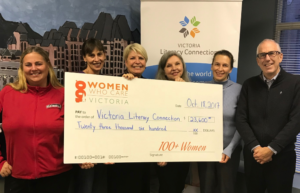 Photo from left to right: Nora Steves, Marnie Hare, Denise Grant, Barbara Newton, Christine Bossi and Charlie Etchell
A great big thanks to all of the 100+ Women Who Care! Such a wonderful initiative that can do so much good!