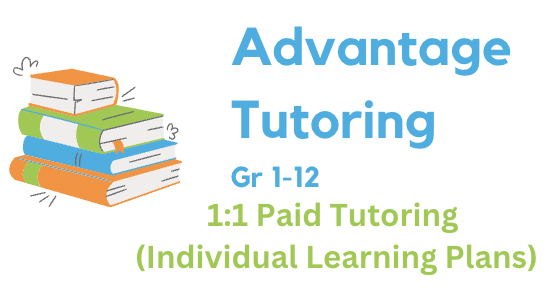 Available for learners who require more targeted approaches with regards to academics and addressing the anxiety many youth are experiencing. VLC's qualified educators will identify gaps in students' learning and develop individualized programs tailored to address these gaps.
Advantage Tutoring provides two streams of Programs:
● Foundations Program: Grades 1-5 – focused on developing foundational skills in Reading, Writing and Math (based on BC Curriculum)
● Boost Program: Grades 6-12 – focused on boosting skills in Reading, Writing, Math, and other school subjects. (based on BC Curriculum)
Advantage Tutoring for French Immersion learners may be available upon request.
Schedule:
45-minute sessions take place online or in-person at the VLC office or Public Library, on a pre-agreed schedule arranged with the tutor.
Fee:
$50/session for individual tutoring.
Funds raised through Advantage Tutoring go to support our subsidized programming.